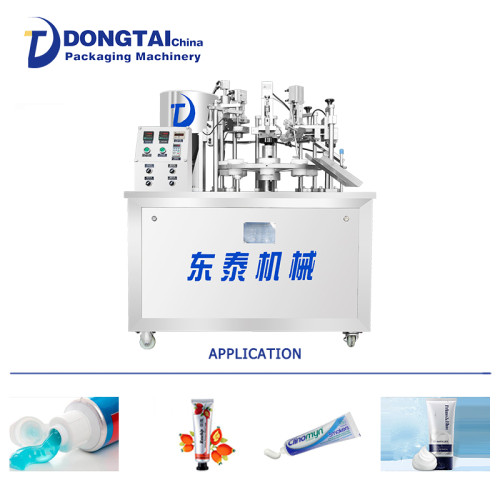 Automatic Toothpaste Tube Filling Machine paste filling machine
Description
1.Application
It is suitable for filling and sealing of plastic pipe and aluminum plastic compound tube in medicine, food, cosmetics, daily chemical products, etc.

2.Features
1. The machine has a compact structure, automatic tube, and the transmission part is completely closed.

2. The machine completes the whole process of supplying, washing, labeling, filling, hot-melting, sealing, code-making, trimming and finished products by a fully automatic operating system.

3. Pneumatically complete the supply and wash of the tube. The action is accurate and reliable.

4. The rotary hose mold is equipped with an electric eye control hose central positioning device, and photoelectric positioning is used to complete the automatic positioning.

5. Easy to adjust and disassemble, especially suitable for users who produce multi-size and large-diameter hoses, convenient and quick adjustment.

6. intelligent temperature control and cooling system make operation simple and reliable.

7. The material contact part is made of 316L stainless steel, which is clean, hygienic, and fully complies with GMP requirements.

8. The amount of hose filling can be adjusted by adjusting the hand wheel, which is convenient and quick.

9. with safety devices, open the door to stop, no filling, overload protection.

3.Technical Parameters
Iorder to ensure product quality, all suppliers of raw materials, electrical components, and industrial automation that strictly control all aspects of circulation are from well-known brands at home and abroad. They must be strictly inspected by quality inspectors before entering the warehouse. Use, product production is completed, from the assembly plant into the commissioning workshop, after a number of rounds of precision and speed test, after commissioning can be allowed to leave the factory.

1. Cover by PVC film + fumigated wooden case;
2. Wooden case suitable for long distance ocean shipping.

1. Technical support online service provided.
2. Technical files service provided.
3. On-site training service provided.
4. Spare parts replacement and repair service provided.

Jinan Dongtai Machinery Manufacturing Co., Ltd. was established in 2008 and is located in Lingang Economic Development Zone, Jinan, China. The company is committed to the design, manufacture and sales of packaging machinery and equipment. It is a high-tech enterprise specializing in the research and development, production, sales and service of automated packaging machinery equipment. The company has professional technicians, engineers and sales and after-sales service personnel, forming a team of high quality, young, highly innovative spirit.