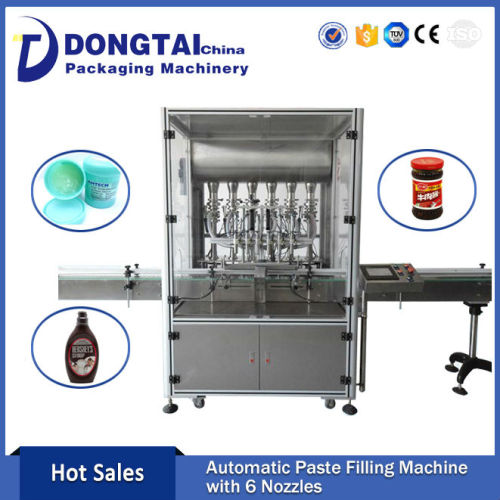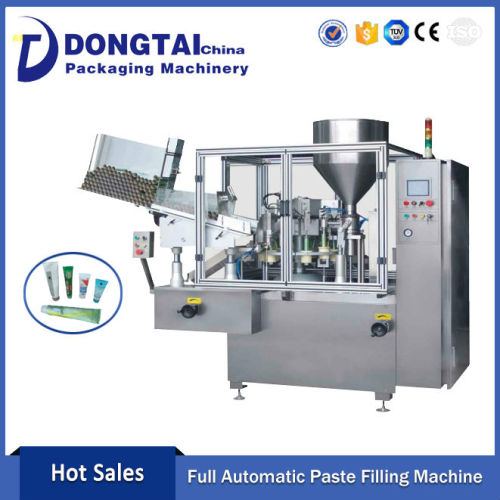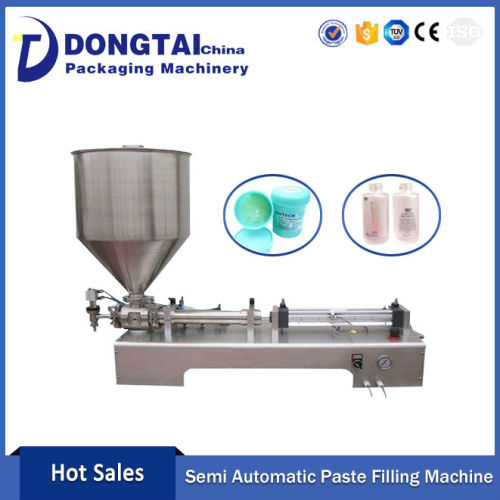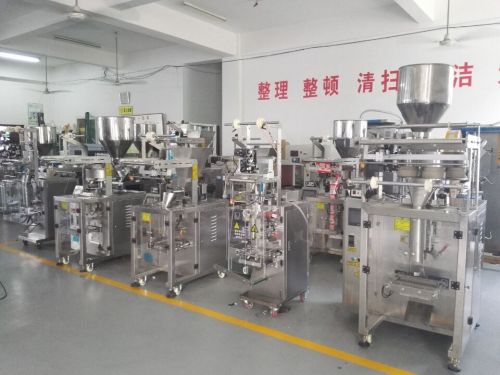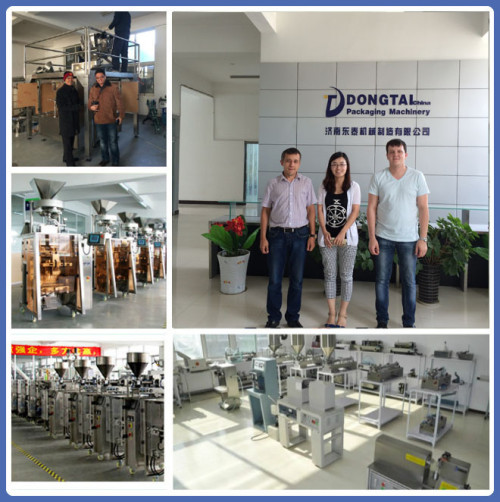 Description
Principle and Features of Main Machine ( Plastic Bottle Production Line )

1. Paste filling machine is developed by our company, suitable for filling a series of high concentrations of fluids. It is through air cylinder to drive a piston and transfer--valve's Three Direct Links principle to extract and to split out the highly concentrated material, and by magnetism-reed switch to control air cylinder's travel, then can adjust the filling volume.
2.This device is simple and reasonable in structure, easy to understand, with high accuracy.
3.Pneumatic part adopts Germany FESTO and Taiwan AirTac pneumatic components.
4.Filling volume and filling speed can be arbitrarily adjusted with high filling accuracy.
5.Filling head adopts anti-drip, anti-drawing and lifting devices.
6. All frame adopts stainless steel, material contacted part adopts 316L stainless steel.


6 Heads Paste Filling Machine And Capping Labeling Coding Line include:main filing engine + 8 m chain plate conveyor(stainless steek) + automatic induction sealer

Capping Machine
6 Heads Paste Filling Machine And Capping Labeling Coding Line is suitable for producing PET plastic containers and bottles in all shapes.
It is widely used to produce the carbonated bottle, mineral water, pesticide bottle oil bottle cosmetics, wide-mouth bottle and hot fill bottle etc.
Beverage bottle, cosmetic bottle, medicine bottle, jar etc.

Parameters of Capping Machine (The following are for reference.)

Labeling Part --Labeling Machine
Mainly applied to food, grain and oil industries in the square, round bottle-shaped materials, demand for fast automatic labeling, such as: flat bottles labeling, square bottles labeling, with matching oil production line labeling. With the general good, high stability, durability and so on.


Labeling Machine Features
1. A unique sub-material bodies, to ensure that the production line on-line use of reliable and effective sub-material.
2. A unique corner of Fu-standard institutions to ensure that the side corner of square bottles labeling three flat, non-wrinkle
3.Labeling Machine is not only stand-alone used, but also used in conjunction with the production line.

Specifications of Labeling Machine
1. Material Dimensions: (round bottle) diameter Φ80-Φ150mm; (Square bottle / flat bottle) Length 100-180mm, width 80-180mm, bottles of 50-350mm
2. Labeling speed: Square bottle side / corner of labeling (in 5L bottle square meter): 45 bottles / min
3. Positioning Leaflets labeling round bottle (round bottle with 1.8L total): 35 bottles / min (with the materials and label size related)
4. Labeling accuracy: side labeling position error ≤ ± 1.5mm
5. Round Bottle Labeling weeks to locate position error: ≤ ± 2.0mm
6. Beginning and end error difference: ≤ ± 1.5mm (excluding packaging and labeling pieces of error)

Coding Machine
The computer industrial inkjet printer, using the UK Coding technology, For food, medicine, chemical industry, beverage, cosmetics, electronics components and building materials industries play a date code, shelf life of Coding, is the choice of a mass production line.

Main structural characteristics of Coding Machine
1. The introduction of the new British Coding ink-drive system with built-in pump
2. The industrial inkjet printer changes to the content of lead in achieving online
3. The industrial inkjet printer is the first to use large print head input method
4. On-line print three lines of numbers in Chinese and English
5. High-speed printing for a variety of materials, can automatically edit the graphic