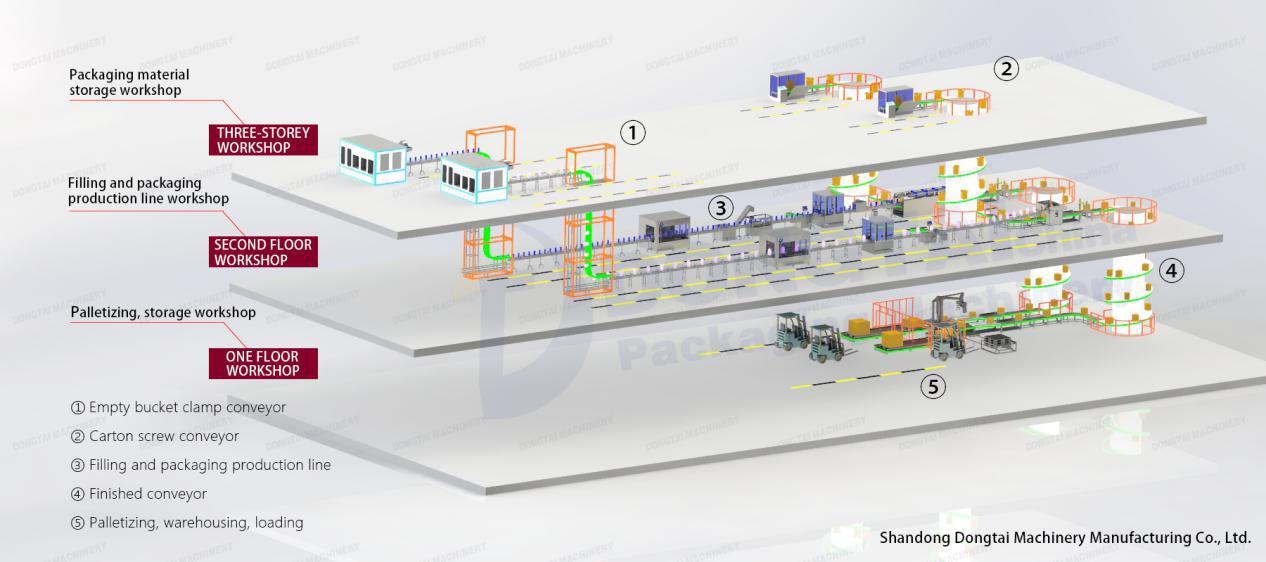 Filling line characteristics
The filling line equipment has the characteristics of stable, easy operation, high cost performance and high automation. Compared with the same kind of product, it has a longer service life, a complete set of ability, and a reasonable design of the whole line. Equipped with coordinated photoelectric and whole line interlocking devices, the whole line needs only 2-4 workers for operating. The technology used is the leading level in today's industry. The whole line of filling equipment meets the needs of production, unmanned and integrated production.
Filling line specifications:
Filling nozzles: 8
Filling speed : 1500-2000 (barrels / hour)
Filling capacity: 1-5L
Filling accuracy: ± ≤ 0.1% FS
Power Supply: 220/380V3 phase +Earth Wire, 50 Hz Number of workers: 3-5 people
Whole line consumption: about 100L\Min The equipment noise: less than 50D
Filling line process flow: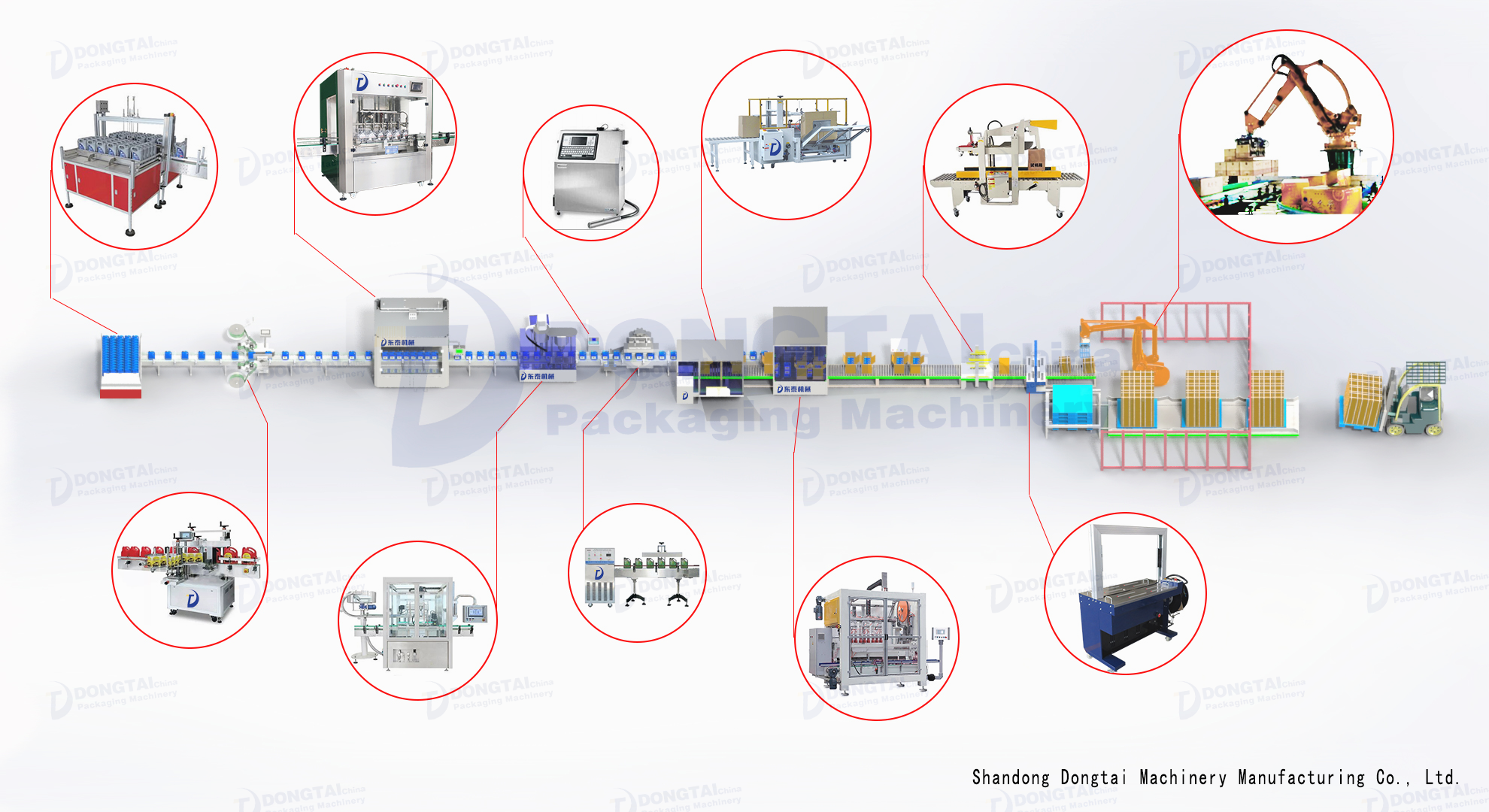 Technical description of single machine equipment
1.Bottle feeding machine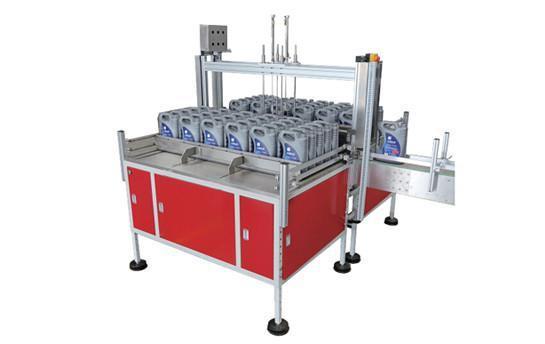 The machine is suitable for sorting and feeding of various plastic buckets, and has stable performance. It can be used together with the automatic packaging line to save labor and increase production efficiency. Put the whole barrel flat on the platform, and push the rod automatically to push the belt into the barrel. Orderly, do not hurt the barrel. It is composed of PLC control electric part, photoelectric sensor and frequency conversion governor. It has high integration level, strong control ability, reliable operation and can be controlled in conjunction with filling equipment.
Main parameters
| | |
| --- | --- |
| Overall size | 2000×1200×1000mm |
| Production capacity | ≤ 3000 bottles/hour |
| Applicable specifications | 1-4Lbottle |
| Equipped with power supply | 220V 50Hz 1.5KW |
| weight | 300Kg |
2.Automatic filling machine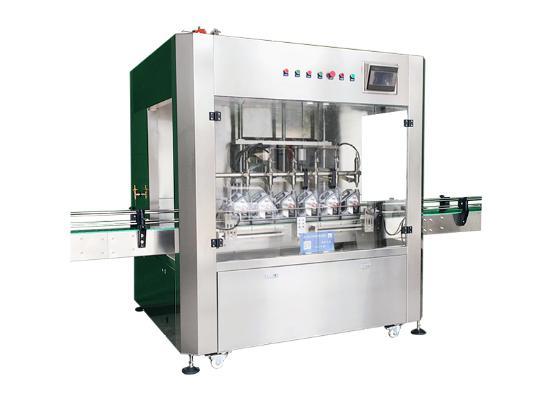 This machine is a flow meter filling machine with high filling accuracy. It applies to 1-5L liquid for filling.It uses filling bulkhead of preventing leaking and wire drawing, filling up and down system of preventing high foam products, assuring the lip orientation and automatic control system. The tank controls material level automatically ,feeding the material is also automatic.The tank adopts the pressurized design that will improve the speed of the blanking. Combine with the mechanotronics protecting device, if the machine has any abnormal information ,it will stop and alarm automatically. The touch screen will appear the detail parts which is abnormal. It is produced with the GMP standards, safety, environmental , hygienism, beautiful and adapt to different kinds of work place.
    Main parameters
| | |
| --- | --- |
| Filling nozzles: | 8  |
| Filling capacity: | 1-5L |
| Filling type: | Flow meter |
| Filling speed : | 1500-2000 (barrels / hour)-4L |
| Filling accuracy: | ± ≤ 0.1% FS |
| Power Supply: | 220/380V 3 phase +Earth Wire, 50 Hz |
| Pressure : | 0.5-1 .0 Mpa |
| Power: | 2.5KW |
| Humidity: | <98 % |
| Ambient temperature | 0~40℃ |
| Size: | 1800*1200*1780mm |
| weight | 300KG |
<24px>3.Automatic capping machine




<24px>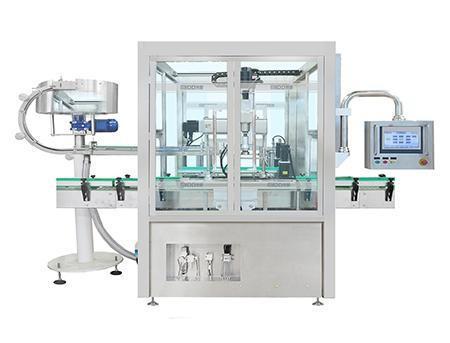 machine adopt tracking apparatus and private servo displacement system , includes cap sorting, hanging and capping in one unit, capping head and bottle running synchronous, capping heads adopts servo controlled torsion capping, no harm to bottles and caps. Whole machine advanced structure, smooth operation, low noise, wide range of application, high production speed.PLC memory formula, one key call parameter, External frame of security protection. Automatic lubrication function long life time.
Main parameters
| | |
| --- | --- |
| Machine size(L×W×H) | 1700×1300×2200mm |
| Capping heads | 1 |
| Capping capacity | ≤2000  |
| Bottle size | D 30-110mm H 50-250MM |
| Cap size | H 10-35MM 18-80MM |
| Voltage | 380V 50Hz |
| Power | 5.5KW |
| Air pressure | 0.55-0.65MPa |
| Production efficiency | ≥98% |
| packing pass rate | ≥99.9 |
| Weight | 900Kg |
<24px>4.Water-cooled induction sealing machine with removing device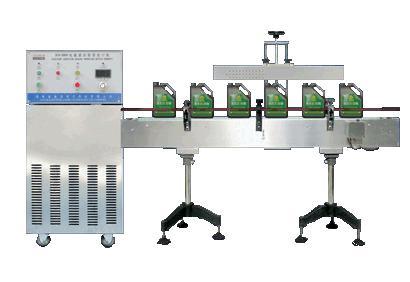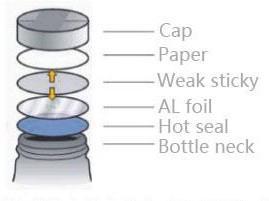 <24px>Technical parameters:
| | |
| --- | --- |
| Power: | 2800W |
| Power supply voltage: | AC 220V / 50Hz 13A |
| Sealing diameter: | φ16-80mm |
| Sealing speed: | 3-12m / min, 40-150 bottles (φ30mmPE bottle 120 bottles / min) |
| Container height: | 30-600mm special requirements can be customized |
| Sensor size: | 850 × 120 × 900mm |
Features:
Type of Equipment: automatic on-line high-speed sealing machineControl System: transistors modular digital integrated circuit control groundCooling System: Dual fan, double radiator water cooling system forced circulationsealing effect: the seal intact, one hundred percent. Even a small amount of liquid bottle leaving traces, does not affect the sealing effect.<24px>5.Double side labeling machine
Introduction:This machine is widely used in food, toys, daily chemical, electronics, medicine, metal, plastic, printing and other industries; such as flat shampoo bottles, flat medicine bottles and so on. It adopts standard PLC, touch screen, standard sensor electronic control system, human-computer interface in Chinese and English notes and improve the function of fault tips, operational guidance functions, troubleshooting instructions; easy to use and easy maintenance; no product non-labeling, non-sticker auto-correction and automatic detection function. It can be also matched with batch coder or printer coder function.Main parameters

| | |
| --- | --- |
| total power | 3KW |
| power supply | 380V; 50HZ |
| speed | 30-50bottle/min |
| label specifications | W.30~100mm H.30~160mm |
| Bottle size | thickness 15-120mm, Height 90-300mm |
| Labeling accuracy | ±1.0mm |
| Width for label | 10-150mm |
| Height for conveyor | 840-900mm |
| Machine size | 2400mm×1500mm×1600mm |
<24px>6.Videojet 630S Imported computer ink jet printer<24px>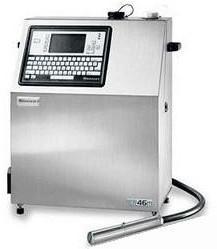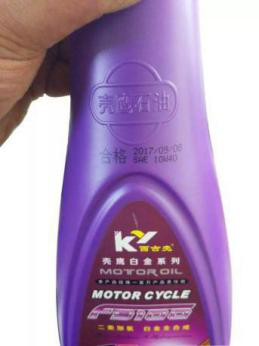 Main parameters
Printing line

1-3

line printing,speed

492fpm(150m/min)

Sign Line

5x5,5x7,7x9,12x16,16X16

Double /Three line

5x5,5x7

Character height

2mm 一 7.5mm

Printing distance

Range:5mm-15mm Best:12mm

Keyboard

Contsist of 72 Character

Display

320x240 Bright blue backlit 5.7 "LCD Display

WYSIWYG editing screen information

Customer logo / design

Can be created for each user on a computer or printer

Character Set

English, Simplified Chinese

Language and interface options

English, Simplified Chinese

Information Storage

50 complex information. Unlimited storage using USB.

Standard USB with logo and memory backup features

Protection class

IP43: Stainless steel cabinet

Sprinkler head

Heating nozzle

Diameter:

1.6 "(41.3mm)

Length:

9.5 "(241.0mm)

Throat

Ultra-flexible

Length: 6.56 '(2m)

Diameter: 0.91 "(23mm) bend radius: 3.O" (76.2mm)

Smart ink cartridges

0.793qt (750ml)

Solvent intelligent cartridge

0.793qt (750ml)

temperature range

410F to 1130F (5 ℃ -45 ℃)

Claim

Nominal power 100-120 / 200-240VAC. 50 / 60Hz. 90

Weighs

No packaging and neck weight: 35.28lbs (16kg).

Options

Electric eye interface shaft encoder interface

9.8 ft (3m) hose 60 or 70 micron nozzle
<24px>7.Opening-packing-sealing Integrated Machine<24px>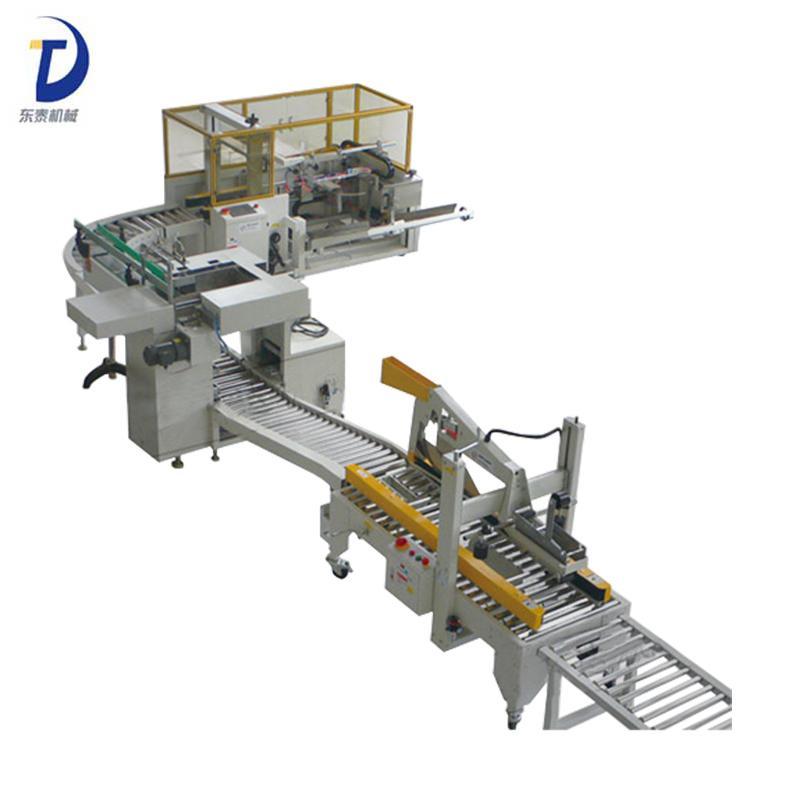 The machine is new type of automated packaging equipment,reached and designed on the basis of foreign advanced technology. The machine has distinctive features compared with the similar packaging way. The vast majority of regular bottled, boxed, block and other products, widely use corrugated carton packaging in the present domestic production, has been accepted by the public.It can finish at one time, reduce the cost of equipment and the space of equipment and raw materials and all levels of transportation contradiction. The appearance of the packaging is beautiful and smooth;It is tight and firm after wrapping.Application of unpacking-packing-sealing integrated machine, reduce labor intensity, labor resources and production process, will upgrade the traditional packaging way and the inevitable trend of development.
Design layout example




Quality Control

 Iorder to ensure product quality, all suppliers of raw materials, electrical components, and industrial automation that strictly control all aspects of circulation are from well-known brands at home and abroad. They must be strictly inspected by quality inspectors before entering the warehouse. Use, product production is completed, from the assembly plant into the commissioning workshop, after a number of rounds of precision and speed test, after commissioning can be allowed to leave the factory.



 

24px>24px>24px>24px>24px>24px>24px>24px>24px>
Our Services
After-Sales Service
1. Technical support online service provided.
2. Technical files service provided. 
3. On-site training service provided.